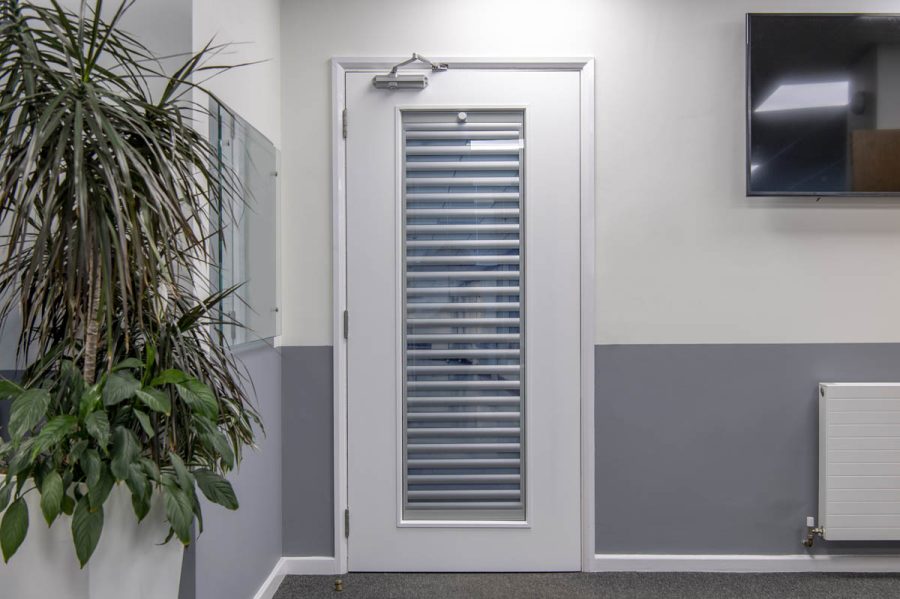 Why Integral Blinds Provide an All Round Winning Healthcare Solution
Post by : Amy Sinden
on 08.06.2022
Integral blinds boast a range of features that make them suitable to use within healthcare settings. From easy operation and minimal maintenance to their hygienic properties, integral blinds offer an excellent solution. This article shall explore some of the reasons that make integral blinds stand out against regular blinds and why they are an appropriate choice for use within healthcare establishments.
Safe and Easy to Operate
Integral blinds are easy to operate and can be specified with a knob mounted on the glass to tilt the slats. As the knob is anti-ligature this helps to make the operation of the blind smooth. The easy operation of the integral blinds makes them suitable for staff and patients within healthcare settings to operate.
Integral blinds are also a suitable option within mental health wards as they will not pose a risk to patients who may look for an opportunity to self-harm as the blinds are built within double-glazed glass. Cordless operation is available using remote-controlled blinds providing a safer alternative to a cord.
A solar controlled option is also available with integral blinds which is possible through a solar controlled battery operated via remote control. This can provide peace of mind for healthcare professionals as they are assured that blinds will not become a potential hazard for their patients during their course of recovery.
Never Attract Dirt
Healthcare settings strive to be sterile environments that promote patient recuperation and limit the spread of infection. Integral blinds can assist healthcare settings to maintain this level of hygiene as they do not gather any dust or dirt due to the integral blind slats, header and footer rails being permanently fitted within the glass unit. Therefore, as the blinds are not exposed to air in the room they do not require extensive cleaning. The only maintenance that they may require is a wipe-over of the control device which is typically a plastic knob.
Reduces Carbon Footprint of Healthcare Establishments
A further benefit of opting for integral blinds within healthcare facilities energy-friendly savings that they boast. This is possible as sunlight can be maximised in a room throughout the winter months by the blinds being placed fully opened to evenly distribute light. Alternatively, during the summer months, integral blinds can operate at full or half-shut to limit sunlight coming into a room, thus, creating a cooler environment. Therefore, integral blinds can help to reduce the carbon footprint of hospitals and assist in saving money that would otherwise be spent on central heating and air conditioning.
Help to Maintain Temperature Within Wards
Many healthcare settings such as hospitals are required to maintain an even temperature to assist patients in recuperation and integral blinds can help to ensure this. The positioningof integral blinds can support the maintenance of the overall temperature of a ward by either maximising or reducing the amount of light that comes into the room. This can be achieved by positioning the blinds downwards for less light intensity from indirect sunlight or pointing upwards for increased light. Automated integral blinds are fitted with sensors allowing them to open and close at specific points in the day which would help to assist in maintaining an even temperature throughout hospital wards.
Maintenance Free Over Long Service Life
As integral blinds are encapsulated within the glass they are protected from being touched, cleaned or damaged by users which therefore maximises their lifespan. Integral blinds that are specifically manufactured using ScreenLine systems from Pellini have a built-in quality that is tested to last many years.