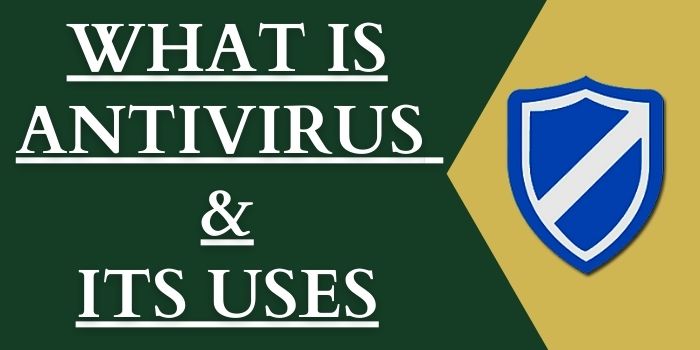 What are Antivirus and their uses?
Post by : Amy Sinden
on 06.08.2021
There is no doubt that technology has made our life easier but also a little bit riskier. We are connected with the internet in so many ways that something can threaten our system and personal information without knowing us.
For protecting ourselves from these kinds of threatening websites and applications we use Antivirus software.
So, before using antivirus software, you should know about what antivirus is and what are its uses, and also the types of antivirus that are helpful to protect our system against viruses.
What is Antivirus?
Antivirus software is created to scan, detect, or eliminate the virus from the computer. It also helps to protect your files and personal data from malicious software (malware), ransomware, and trojan horses.
Most of the antivirus software works automatically in the background and itself scans and detects the files, programs, and applications or removes the viruses from the system and blocks threatful sites that are harmful to our device.
Types of Antivirus
An antivirus is the strongest tool to protect our computer system against viruses. This software not only detects the virus but also removes it from the device.
There are many types of antivirus available according to the computer system. They work on how they find the virus in the device. Let us know about the different types of antivirus software-
AVG Antivirus
You may have heard of this antivirus software, this is well-liked and most used software. It is freely available; you do not have to look in on fake links to get this. You can download it from the internet easily and it occupies very little space on your device. It can do work with different windows.
It occasionally scans the files, detects the virus, and eliminates it from the computer system. It has many features like Protective Cloud Technology, Anti-Spam pro, email scanner, anti-rootkit.
If you want the smooth working of your system and eliminate the virus, you surely have to install AVG Antivirus software.
Bitdefender Antivirus
Bitdefender is one the best antivirus solution out there which offers the best facilities and great solutions to its users. Based on the pros and cons of Bitdefender, we can say that it is the most reliable software. It has a wide range of products Bitdefender family pack and total security are some of its best products. Also, it offers good customer support to its users.
McAfee Antivirus
It is the second most popular antivirus software after AVG Antivirus. You have to get a subscription to this software. It protects from both malware and spyware.
It protects the devices from viruses and malware without affecting their performance. It also has a parental control feature to secure your data from a third party.
It provides prevention against spyware and viruses in one program, unlike many others in more than one. It also has a facial identification feature that keeps our data extra safe.
Norton Antivirus
It offers security to the device from hackers, VPN to browse privately to keep your information safe and secure. It helps in blocking the threatful software that recreates itself and spreads over the device to damage its systems.
Adaware Antivirus
Adware is high-class antivirus software that is easy to use and prevents the computer from many types of malware and viruses.
It completely scans the computer for malicious software such as malware, Trojan Horses, worms, hijackers, viruses, and spyware to prevent.
it from password hackers, software monitoring, and other applications that are harmful to your personal and sensitive data.
Why is Antivirus used?
Not using an Antivirus is like inviting all the viruses and other harmful software to your system for damaging it. Antivirus is like a protection guard for your device that protects your system against all malicious software.
There are many uses of Antivirus, some of them are mentioned below-
Its main function is to scan the computer and detect those files that are malicious and can damage the computer system. Some of the Antivirus detects the virus before they activate and removes them from the device.
One of the important uses of Antivirus is keeping our data safe against hackers. These hackers use the malware program for hacking anybody's data. They install it on their device without their knowledge and steal their information and use it for their benefit.
It allows access only to those websites which are safe and do not risk your data. Getting access to unsafe and unofficial websites can leave your device with many viruses, malware, hackers, spyware, etc.
It provides parental control that controls your child's activity. Protects them from unofficial and adult sites that are bad for them and can distract them. So, it provides monitoring to the parents to ensure that their kids are using the internet in a good or efficient manner.
It protects you from spyware and phishing attacks. Some hackers send you fraud websites from prominent authorities by which they can easily steal and hack your data and make you a victim of credit card fraud and misuse your personal and sensitive data for their benefit.
That's why using antivirus software is necessary for the protection of your device, and for the smooth working of your system, and for keeping your data safe from hackers and other fraud websites.
Conclusion: What Are Antivirus And Their Uses?
After discussing all the things we come to the end, that using antivirus software is very essential and efficient for our computer and data.
It secures our personal information from being hacked which is very important for us to prevent it from being misused and smooth working of the computer system. To know more about antiviruses check out WebTechCoupons.