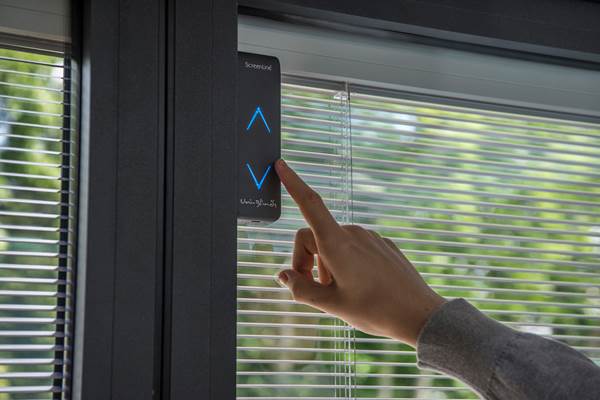 Switch on to self-charging, solar powered integral blinds
Post by : Sam Allcock
on 10.12.2020
The low energy, stylish home of the future is here today with the new W Smart solar powered Uni-Blinds integral blind system from Morley Glass & Glazing.
W Smart builds on the proven W Swipe system that has been at the forefront of the market for many years, offering a motorised integral blind which takes its power from an externally mounted solar panel. Manufactured using the world-renowned ScreenLine blinds systems from Italian market-leader Pellini, it is available is a range of Venetian, pleated or black-out blinds encapsulated within a 20, 22, 27, 29 or 32-mm cavity, making it suitable for numerous door and window styles in both residential and commercial applications.
W Smart uses a 3.6V internal motor powered by a lithium-ion battery which is housed in contemporarily styled module which is also the user operating unit. The battery is self-charging during daylight hours in zero-emissions fashion through a discreet solar panel positioned on the exterior window frame, and a micro-USB connector also provide a charging back-up option if ever needed.
An added tech dimension comes with a 99-channel remote control option, which allows the user to control the integral blind from a distance thanks to the integration of a radio receiver in the battery module as standard.
Ian Short, MD at Morley Glass & Glazing said: "As a long standing partner of Pellini blinds, who manufacture the W Smart ScreenLine blind system in Italy, we're perfectly positioned to bring their innovations to customers in the UK as soon as they are launched in our Uni-Blinds branded solutions. W Smart is a really impressive development as it features enhanced operational performance with a cleaner, slimmer, more contemporary user interface that will look the part in any modern home.
"W Smart can be used in new windows and doors as well as for retrofitting into existing ones. And it provides a motorised option for those who don't want to go down the route of a hard-wired motorised integral blind like our MB System."
The battery module's functionality has been improved with a user interface that now features two LED arrows that intuitively show the commands given to the blind through the module, as well as indicating when recharging is needed. At only 18mm, the slim size of the device makes it perfect for placing on sliding windows, in either vertical or horizontal positions, and it is available in four colour options – white, silver, anthracite grey and black.
W Smart's battery module and control unit is smart in every sense. For the first time in the field of integrated blind systems, W Smart allows for information about each blind to be stored directly on the battery module, thus avoiding the need to associate a specific control device with a specific window.