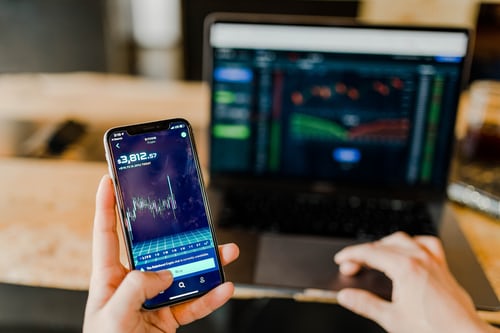 How to Trade Bitcoin: Step by Step Guide
Post by : Sam Allcock
on 22.07.2021
In the past decade, bitcoin has been one of the most popular ways of investing your money. It has generated a good return on investment for each investor or trader. At this time also many people do not have complete knowledge of bitcoin, like what it is or how it can be traded. Here is the answer to how to trade bitcoin.
What Is Bitcoin?
Bitcoin is a virtual currency, and it does not exist in physical form. The creation and storage of this currency are in electronic format. The government controls fiat money, but no one controls bitcoin. It is a decentralised currency.
It was launched in 2009 and developed by a developer named Satoshi Nakamoto. The motive was to use the coin as a medium of exchange across the world. The transactions are recorded and stored in a digital ledger. Cryptography is used to protect the duplicity of coins.
Some Key Elements of Bitcoin
Here are some of the critical elements that every trader or investor should understand. These points are almost the same for bitcoin and other cryptocurrencies. Before we jump to how to trade in bitcoin, we should understand those points that are:
Decentralised
The meaning of decentralised means the coins do not come in any central bank or authority jurisdiction. Traders should keep in mind that they are putting their money on a decentralised virtual currency.
Blockchain
A decentralised ledger system used to record transactions, storage and others are known as the blockchain. Every digital currency or coin uses blockchain technology to manage transactions and storage.
Digital Ledger
A ledger prepared in electronic form is known as a digital ledger. It is used to record transactions and keep the ownership of bitcoin safe from any foreign intruder. It also provides transparency of every transaction.
Altcoins
After bitcoins became so famous, other companies also created cryptocurrencies. Currency or coins on a decentralised network are known as altcoins.
How To Buy Bitcoin
Bitcoin can be bought and sold online to earn a profit. In earlier days, bitcoin mining was used. But now, traders need an exchange or broker. After making deep research, traders can finalise a broker that is best for them.
Here is a simple procedure for the question of how to trade bitcoin. The steps for trading or investing in bitcoin is as follows:
Step 1: Learn the Fundamentals of Bitcoin
Before you invest or trade in bitcoin, you should learn some basics or fundamentals about the market and coin. This ensures that you have the proper knowledge and reduces the chances of losing in the market.
Step 2: Choose An Online Broker or Exchange
After learning the fundamentals, traders must choose an online broker or exchange platform so that they can trade freely. Online brokers or exchanges work as an intermediary between a trader and the coin. They also provide storage for coins.
Step 3: Open An Account
Traders need to open a trading account to buy bitcoin. Complete the procedure of opening an account and add some funds to place a trade. After successful depositing of funds, traders can buy bitcoins.
Step 4: Storage of Coins
After purchasing coins, the trader needs a wallet to store them. The exchange or broker also provides a wallet for the storage of coins. Make sure that the wallet is protected with the best security measures.
Trade Bitcoin CFDs
If a trader does not have the funds for investment, then he can trade using CFDs. CFD is a better way to trade if you don't have funds or have insufficient funds. CFDs are known as Contract for Differences. In this, a trader does not need to invest. They can earn by making the final price settlement between the opening and the closing price.
Use PrimeFin for Bitcoin CFD Trading
PrimeFin is authorised and regulated by the Labuan Financial Services Authority (LFSA). This makes the broker a trustable one, and it uses various security measures to protect your data. Traders can trade in bitcoin CFDs using this broker.
It provides easy deposit and withdrawal options for a trader. The maximum leverage offered by the broker is 1:100. Traders can access various types of educational material and research tools to study the market in a better way.
The Bottom Line
Bitcoin is a healthy investment to park your extra funds and enjoy returns. Traders who are facing difficulty in how to trade bitcoin can take assistance from this article. Choose a reputed broker for trading in bitcoin and earn higher returns from the market.