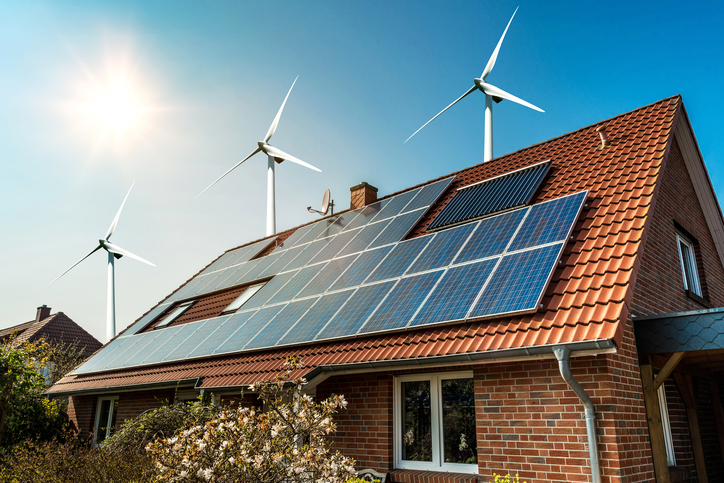 Do Solar Panels Increase The Value Of Your Home?
Post by : Elliot Preece
on 29.05.2018
Let's face it, the UK climate isn't perfectly suited to generating solar power. While southern European countries such as Spain can boast having some of the best solar potential on the continent, dear old Blighty lags some way behind.
That's partly why, up until 2011, solar power represented a very small part of electricity production in the UK. But times have changed.
Since 2011, serious strides have been made to make solar panels more efficient and more affordable than ever before. They may still be a relatively new technology but they are already fast becoming one of the must-have energy saving devices in the home.
The acceleration of solar power technology has also combined with the introduction of a feed-in tariff (FIT) subsidy in April 2010. That's meant that solar panels now generate more energy from the same amount of sun, cost less to install, and can generate an income for any unused electricity a household generates. In other words, they have become a much more attractive proposition for homeowners across the UK.
So, the big question is, do solar panels increase the value of your home?
It's a fair question and one that doesn't yet have a clear-cut answer. You see, people are still getting used to properties with solar power and, because it's a relatively new thing, there isn't that much data around to make the case for (or against) higher prices for properties with solar panels.
However, there are three core reasons why common-sense would dictate that a house will indeed increase in value if it has solar panels installed:
Energy Efficiency – Energy Performance Certificates (EPCs) have brought energy efficient to the forefront of people's minds when buying properties. The boost a home gets from having solar panels installed will undoubtedly appeal to those more environmentally friendly buyers.
Cost Savings – With the ever-increasing cost of energy in the UK, any properties that can promise to cut energy bills for the owner are likely to become more and more in demand.
Feed-In Tariff – You might need to check with your solicitor but if you own the solar panels outright, you should be able to pass the feed-in tariff payments to the new owner. You'll need to complete a change of ownership form but doing so will help to increase the amount someone is willing to pay for your property.
When a potential buyer is able to benefit from all these three things, it stands to reason that they may be willing to pay a little more to secure your home, certainly when compared to a similar property without solar power.
However, it's not always as straightforward as that. If the solar panels are coming towards the end of their useful life, potential buyers may actually see them as a cost or hassle they could do without.
It's therefore worth your time making sure your panels are in a good state of repair and it may be worth updating to the latest panels if yours are already relatively old.
There's also the fact that some people may not see solar panels as a good thing. Despite the obvious energy saving benefits, some buyers still find them unattractive and actively avoid properties that have them.
On the whole though, it's easy to see why, in most cases, solar panels can be a positive impact on the value of your home. Plus, renewable energy is only going to become more popular, which means having solar panels will become increasingly important for the value of your property.
So, if you are lucky enough to have solar panels installed make sure you use it to help you negotiate a higher price when selling your home.