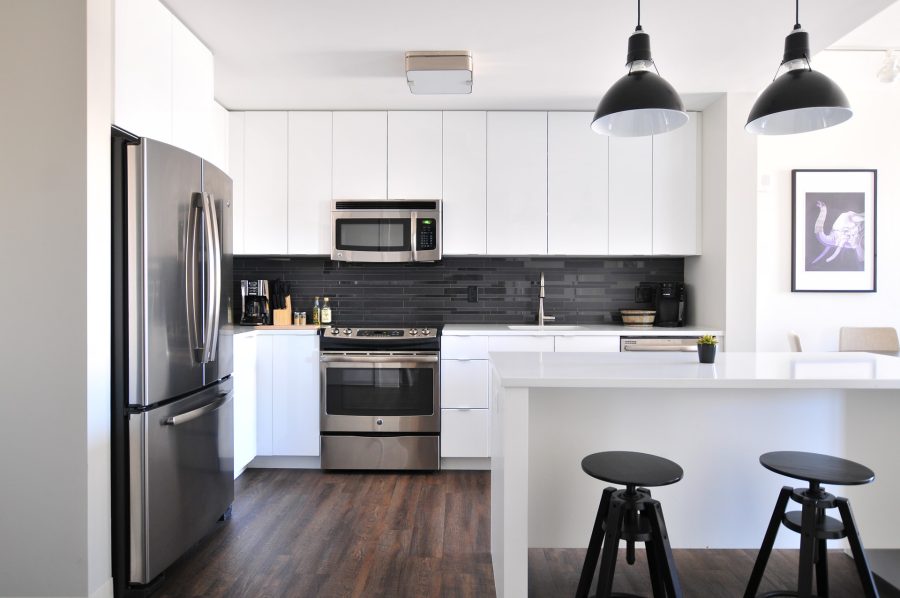 4 Tips to Build an Energy-Efficient Kitchen Extension
Post by : Amy Sinden
on 08.07.2022
Your kitchen is the central hub of your home. It's the place you eat, cook, entertain guests, and spend time with your family. However, having the space to do all this is sometimes limited, which is why a lot of homeowners choose to invest in a home improvement project.
Building a kitchen extension is a serious investment, especially in today's financial climate. As the cost of living rises and energy prices increase, choosing the right design and materials to enhance your extension's efficiency is an important consideration. However, with green design only recently starting to boom, information about your options and the best course of action is limited. Thankfully, we've put together these top tips to help you build an energy-efficient kitchen extension.
Make Sure Your Kitchen is Well Located
Don't throw your money down the drain – literally! Make sure your kitchen extension is located in a convenient spot to maximise your drainage, power and ventilation. Finding a place these elements are easily installed or feasible will save you time and money.
Having an awkwardly placed kitchen extension means forking out for complex fittings or relocating the drains and pipes, which costs an average of £1250. This is pricey due to the complex sewage network drains are attached to, which makes them hard to tamper with. You'll also need permission from your water authority, which will cost you an extra £750. So, to ensure your proposed extension is in the ideal spot, ask your building contractor or architect to check for you. You'll also need to hire a drainage surveyor to make sure everything is in good working order before you start construction.
Consider the Carbon Footprint of Your Materials
Everything we consume generates a carbon footprint. Therefore, when we want to build an energy-efficient kitchen extension, considering the impact of the materials we use helps us reduce our greenhouse gas emissions.
When we calculate the carbon footprint of products or materials, we take into consideration the following aspects.
Source – Is it local or exotic, and does the UK supply chain make it more or less environmentally friendly?
Weight – Having to transport heavy goods that are labour intensive isn't environmentally friendly. Lighter materials cost less to transport and use in most construction methods.
Material – Some materials and products generate a higher amount of carbon. For example, cement, lime and plaster all have a high carbon footprint. However, this can be slightly offset by their longevity and ease of transportation.
As a general rule, most lifecycle assessments suggest that locally sourced and sustainable construction materials are the best for the planet. Recycled plastic, bamboo, glass, and repurposed wood are all great building materials that are both energy-efficient and eco-friendly.
Choose Eco-Friendly Materials and an Energy-Efficient Design
Although Passivhaus is the gold standard in the green home improvement world, finding an accredited architect and builder who's able to install the exacting standards of this design-build isn't straightforward. However, that doesn't mean you can't improve your home's environmental credentials in other ways.
What are the Most Eco-Friendly Materials you can Find in the UK? 
Most modular builds are considered eco-friendly in the UK. Some modular extensions are supplied as kits or built in a manufacturing facility before being transferred to an existing home. They're often around 20% cheaper than traditional extension constructions and are easy to install, which makes them more energy-efficient to boot. One example of a modular extension includes the use of structural insulated panels). The result is a strong, cost-effective, and energy-efficient building system.
Other eco-friendly materials include the following:
Bamboo is a fast-growing grass that regenerates from its own roots, meaning it doesn't need to be replanted. It also requires little watering or fertilizer.
Straw bales trap carbon in their husks and can be used as load-bearing structural supports or insulation blocks. As they're locally sourced, their use in construction is carbon-neutral and even carbon-negative in some cases!
Ferrock is reportedly five times stronger than traditional concrete. It's also more flexible with a higher compression strength, making it a perfect alternative to carbon-heavy concrete.
Cork isn't just strong and durable, it offers thermal and acoustic insulation too, which makes it a great building material. It's also resistant to fire, water and rot. But the best bit is how it replaces its own bark every 9 years, meaning you don't need to chop it down to collect the cork oak's 'wood.'
Design Your Kitchen Extension With Energy Efficiency in Mind
Although most construction projects use blocks and bricks to build or extend houses, it's always worth considering other energy-efficient alternatives such as timber frames. However, it's not just the materials you use that matter. How your building is designed also impacts its energy efficiency, which is why an architect's drawings are important. For example, if you manage to build a house that maximises the sun, the natural light and warmth will reduce the need to heat or light your home. Conversely, a bad design will cancel out any energy-saving credentials you gained installing energy-efficient materials in the first place.