Solar Energy Grants Funding
There are currently two main grant schemes that are available to domestic and the public sector organizations, The Feed in Tariff, (FIT) for Solar Photovoltaic systems, and the Renewable Heat Incentive, (RHI) for Solar thermal and Ground and Air Source Heat Pumps.
The government grant and discount schemes run on both national and local level for all homeowners and commercial enterprises, including the likes of churches and hospitals. FI Tariffs at Solar install are accredited with MCS to install and design small scale and large systems to suit any organisation.
MCS installers, and can guide you through the installation and (FIT) and (RHI) application process so please contact us for any further information regarding these options.
Before you consider a renewable energy source you must have an accredited contractor to carry out and advise you along each step of the design and installation process. We at Solar Install can do this for you with our in house design team of fully trained surveyors and energy advisors.
We supply solar panels across the UK, including solar panels Derby, solar panels Swansea and solar panels Plymouth. We can take you through each step and ensure you get the correct solar system to meet your needs. The LCBP Phase 2 scheme has now been replaced by the Feed in Tariff for Photovoltaic Solar Systems and the Renewable Heat Incentive for Solar Thermal and Ground and Air Source Heat Pump technology for heating systems.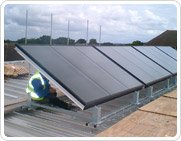 Domestic FIT's are at the highest ever level, which is currently 43.3p per KWh of electricity generated, for systems under 4KWp in total. For larger commercial systems the FIT tariff varies according to the system size. Below is a table giving a guidance to FIT payment levels for each type of technology and size of system installed.
If you require any further information regarding grants available and need advice on the best one for you please do not hesitate to contact us and we will be happy to advise you further.