Eligible Energy Sources
Feed-In Tariffs are available to most
electricity-producing renewable sources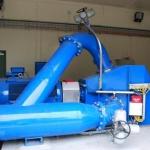 The Feed-in Tariffs are intended to support all renewable electricity generation sources used below 5MW. Non-renewable gas-powered combined heat and power (Micro-CHP) is also included and it appears likely that fuel cells could be included in the future.
As at the launch of the scheme the following technologies are eligible:
Anaerobic digestion to produce biogas for electricity generation
Hydro-electric power (including tidal mills and locks)
Solar electric photovoltaics (PV)
Wind power
Small-scale gas-powered combined heat and power up to 2kW
Quite a lot of technologies are ineligible as detailed in our page on excluded installations.
Please also note, as we receive many questions about this, solar heating systems are covered within the Renewable Heat Incentive.
Tariff levels
For information on tariff levels for the power generated by each size and type of technology, see our Tariff Levels Table.
The renewable energy sources expected to be most widely used for the tariffs are shown on the right. Although the Energy Act defines other technologies, which could be eligible for tariffs, the Government has not currently included them, saying:
Biomass power, landfill and sewage gas should only be supported by the RO
Other technologies (implicitly biofuel generation, fuel cells, wave and tidal energy) are not yet sufficiently widely used at the scale covered by the FITs.