COMMERCIAL & INDUSTRIAL SOLAR FOR BUSINESSES
Solar hot water and electric systems are not just useful for domestic use, but can financially beneficial for businesses too.
We install across the country, whether you need solar panels in Brighton, solar panels Reading or solar panels Dundee. We can visit your site, assess your needs and make recommendations depending on what we find. We will also supply any information on grants available to you if you choose to convert to renewable energy sources.
It can be a confusing procedure, clients often don't know where to start, or question whether solar will work for them or would simply like information on the type of grants available to them. But don't let this deter you, we can provide any help or assistance you require during the process of switching to solar.
Whether your business is located in a new or old industrial building, or even if you want solar panels for warehouses and other external buildings, solar energy systems can be easily integrated into both. We'll work hard to find a solution to meet your requirements.
If, like many of us, you are concerned about carbon emissions and fuel poverty solar energy systems offer efficient solutions that address both subjects.
Not only solar hot water and heating systems save you money on your bills, there are also a number of long-term advantages. For example a solar hot water system will reduce wear and tear on the other systems in the building like boilers, reducing the amount they need to be serviced, as they are doing less work.
If you're unsure, there are two types of solar energy system:
Solar electric systems – to generate electricity
Solar hot water systems – to create hot water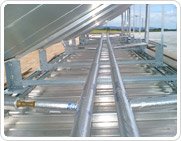 Both types of solar system fit most structures and it's possible to install them in to office blocks as well as many other types of building, from health clubs to hotels.
Solar is easy to accommodate into existing buildings with little disruption, so the services provided by the building can carry on as usual whilst the project is underway.
Some buildings are visibly suitable for one or the other of the technologies, and some easily contain both. Stadiums and other buildings with high electricity consumption will benefit from a solar electric system, whereas buildings like restaurants that have high hot water usage would be ideal models for a solar hot water device.
Solar hot water systems work in a very clear-cut manner. When the sun is out, water is pumped around the solar panels on your roof and is heated by the suns rays harnessed by the panel. This hot water then flows into the building, warming the water stored in your hot water store, or cylinder. They offer substantial savings in energy, carbon and money andare the perfect starting point when looking at the prospects of solar energy for your business.
Solar electric systems are integrated into the building's electrical system, and will provide electricity directly into the distribution system. They are made up of panels mounted on the roof with controls and switches located inside the building.
The panels work by capturing the suns energy, which is simply channelled into the ring main and straight into any appliances that are in use in the building.
This reduces the energy that is drawn from the national grid. When the system is not producing energy the building will still be able to draw from the national grid as usual. The solar electric system will save you money on your bill and reduce the amount of CO2 your building generates.
For more information on installing solar systems in your commercial or industrial building please contact us here